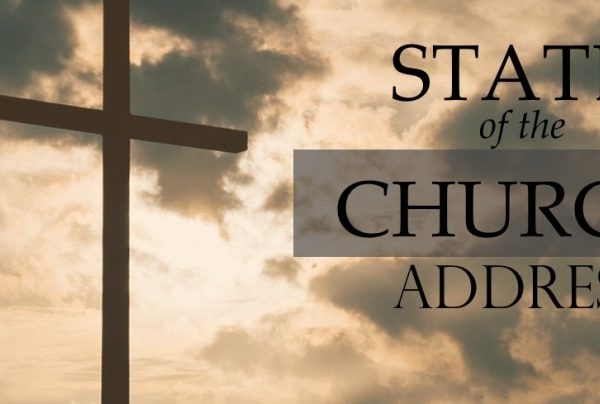 "The State of the church has been challenged this year, but it is good.
• We've walked through loss…
In all of these hardships God has been faithful, and He's moving us forward!
• Love, Grow, Engage! This is our most directly stated vision as a church. To love God and humanity, to Grow in relationship with God and humanity, to Engage our community and the world with the love of God.
• In this vision we can see both a vertical and horizontal connection to God…
• Our desire is to "Reach Forward" this year, and farther seek His direction for us as a church body…
Philippians 3:7-9a, 13-14
He's our goal… His Glory… His work… that all of our lives would be centered on Jesus… and in doing so, the natural byproduct will be a life lived in love for God and love for others…
I praise God for being allow you lead you all as your pastor… I count it a privilege… as well having the privilege to be known as your friend…
So now let us look forward to our ministries & goals for this year…
We're Looking to add laborers in ministry…
• To build upon our growing children's & nursery ministries, in order to restore Rainbows and children's ministry with greater support…
• Soundboard & projector ministries… we also need to build a facility and lawn care ministry…
• Woman's Ministry… Men's Ministry… We desire that as many man and women would be involved within these ministries as possible…
• Pantry Ministry & Loads of Love…
• Greeting Ministry…
• Youth Ministry…
• Worship Ministry…
• Missions Ministry…
• Sunday School & Wednesday Night Midweek Service…
• Breaking Bread…
(New) Fun Committee
• Our desire is to have one activity a month (outreach or fellowship or both/ Men's Ministry & Empower Women's Ministry)… I'm creating a fun committee to help…
• The idea is that we're connecting and doing ministry, or solely fun once a month… with the desire for greater connection and community… prayerfully a seed to greater relationships outside of these events… if you connect with someone follow up, be intentional, be friends…
• If you would like to be a part of this, please let me know!
(New) Leadership Training
• As I was on sabbatical this last year the Lord kept laying on my heart to train leaders… to invest in leadership… So that my desire, to be faithful to lead the way God's called me to lead…
2 Timothy 2:1-3
• This year we're going to strive to follow this example laid out in the life of Timothy… my hope is to take the grace and truth that I've received and pour it into the faithful hands of this church body…
• That in turn, they would pour His grace and truth into the lives of those they serve… this will happen as we pursue the prize of Christ's, in community with one another, living in grace toward one another…
• Between Men's Ministry, Empower Women's Ministry and Leadership training… I believe we're planting the seeds of small groups…
• Once a month we'll find a time to review our leadership studies… (possibly Sunday night/ Thursday, etc/ or after a service?)
• Personally I will take 3 people for 3 months, then another 3… model some of this with your teams now… pursue people, also create a schedule for those unable to do it during certain seasons that still want to do it… block things out for sign ups…
• Please prayerfully join me in this pursuit!
(New) He Gets Us…
God has some incredible things in store for us!!! This year is going to be a powerful, and rebuilding, year of ministry… So excited for what God has for us…
God is calling each of us to something… no matter what our ability or time would say… God is calling us…
• Maybe you don't know exactly, but you know God has something more for you…
• Our response, our altar call will be this… Pray, God show me what you're calling me to… then as the Lord leads you, sign Up if you're interested in any of these ministries…
• Your not servicing men, or your pastor, but the Living God… who is worthy of all service, worship and praise…"