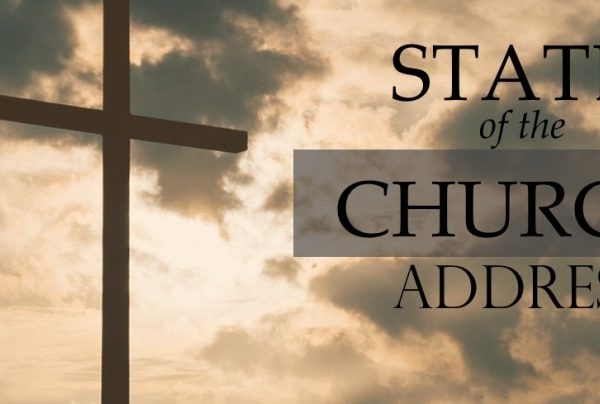 God Builds His Church…
We are on the precipice of a mighty move of God…
Our vision for the church is simple… Love, Grow, Engage!
• Love God and humanity… vertical and horizontal love…
• Grow in relationship with God and each other… let us not be stagnate but continue grow…
• Engage our community and the world with the love of God…
The last couple of weeks we've been talking about community, investment, and grounding… These ideas are the bridges to fulfilling our bigger mission of loving, growing, and engaging our community…
If you're going to leave your newborn baby with someone, you want to know that they will be well cared for…
• God wants to give us some newborn baby believers, are we ready to receive them?
• God wants us to minister to battered, and wounded believers, are we ready to receive them?
• God wants us to send out strong and healthy saints into a world that needs to see the love and truth of Christ, are we ready to equip them?
We are close, but "we're not there yet…"
We must grow in community… involvement… and in our grounding…
2 Timothy 2:1-3 (NKJV) You therefore, my son, be strong in the grace that is in Christ Jesus. 2 And the things that you have heard from me among many witnesses, commit these to faithful men who will be able to teach others also. 3 You therefore must endure hardship as a good soldier of Jesus Christ.
First, I see in here a sense of community… we must learn to fight against our DNA to be a Sunday morning only congregation…
• We must strive not to look for others to bridge these gaps, but to seek ways we can reach out…
• We must challenge ourselves and ask, can I grow in my love for my church body, both new and old…
Next, we must grow in involvement… There is a lot of ministries that we've yet to engage in because we need laborers…
• "pray the Lord of the Harvest laborers" … we also should pray, God put a heart of laboring in us all…
• We must challenge and ask ourselves, is God calling me to a new or existing ministry within this church, or within the community?

And finally, we need to become more grounded… this world is blitzing us with lies and half-truths… and if we're not careful, even the best of us can become swept away…
• As we follow Christ; this life will place us in the "no man's land" between politics, nations, and fights of all forms… in the midst of all of this, God has called us to be peacemakers…
Matthew 5:9-10 (NKJV)
Blessed are the peacemakers,
For they shall be called sons of God.
Blessed are those who are persecuted for righteousness' sake,
For theirs is the kingdom of heaven.
When we are seeking to make peace between an unbelieving world and Christ, there will be so many "good things" that will try to distract us from that mission…
• And there will be a measure of persecution that comes with staying narrowly focused on this goal… but it's worth it…
Oh God in all my kingdoms, and my ideas, may they be subordinate to the Kingdom of God…
• May no other cause hinder the cause of advancing the Kingdom of God…
May my grounding be; God you be king,
• may your priorities be my priorities,
• may your heart be my heart,
• may your love be my love,
• may your compassion be my compassion,
• may your grace be my grace,
• may your mercy be my mercy,
• may your self-sacrifice be my self-sacrificed,
• may your truth be my truth,
• may your character be my character,
• may your cause be my cause…
"The saint who is intimate with Jesus will never leave impressions of himself, but only the impression that Jesus is having unhindered way, because the last abyss of his nature has been satisfied by Jesus." – O. Chambers
Our goals for this year are…
• Starting planning on a new building additions, or some variation of that… (add to building fund)…
• Looking to add laborers in ministry… there are places of impact that God is calling each of us to…
• Launching Small Groups… Small Groups – is a means to an end… not bowing at the altar of any program… we are not just launching this to do it… this is a tool, a means to an end of community, engagement, reaching out and grounding…
• Missions and outreach team… Strive to continue to be more aware of community cycles… and be more intentional, creative and thoughtful in outreach asking God to direct us in bringing His Freedom to our community… Special services… Cookouts… Missions Trips…
God has called this place to be a place of freedom…
2 Corinthians 3:17 NASB …where the Spirit of the Lord is, there is freedom.
God has call us to be a place of overcoming… we are more than conquerors…
Romans 8:37-39 CSB No, in all these things we are more than conquerors through him who loved us. For I am persuaded that neither death nor life, nor angels nor rulers, nor things present nor things to come, nor powers, nor height nor depth, nor any other created thing will be able to separate us from the love of God that is in Christ Jesus our Lord.
God has called this church to love, grow and engage this world… The bridge to that calling is through community, investment, and grounding…
What do I do with this:
Pray – The Lord's direction in your callings… for our leaders… for our church…
Plug in – Get involved as the Lord would lead you… also prayerfully see the need…
Use your time well – We're only given one life on this earth… spend it growing and becoming more grounded in him… spend it reaching out to a world that needs to know the love and truth of God… gather to yourself treasure that will not pass away… live your life for your greater purpose…